The KnowledgeMap™ is a unique tool that efficient in both preliminary and final student's examination, as well as for self-preparation for the PMP certifications. In strict compliance with PMBOK the whole PM's knowledge base is decomposed into five process groups and ten knowledge areas.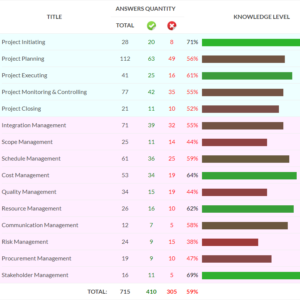 The system keeps all the test results. While each question is linked to an appropriate process group and knowledge area, you can see the whole picture and the topics to be reviewed.
The basic functionality of KnowledgeMap.pm:
Shows gaps in your knowledge of Project Management
Test you to get prepared for PMP certification
Provides you with Contact Hours of formal Project Management education
Moreover, you can create your own schedule for the PMP exam preparation, based on your current knowledge. You'll get a schedule in usual view of Gantt Chart.
No more bit-by-bit information collection, site-to-site surfing, asking "The Experts". You just need to pass the preliminary test, create your preparation schedule, and do one task after another, until you will got ready.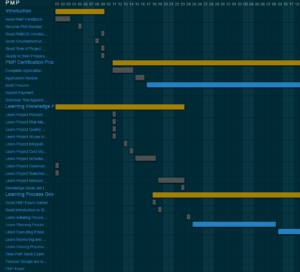 You can learn quickly or slowly, and the Knowledge Map will calculate the expected date for completing the training. Yes, now you know the date to assign the PMP exam.
Each task is described in detail – what to read, what to watch, where to register, how to apply, what to study, how to test yourself. Also, if you find a way to perform some task better and easier than we described, you can write your own comment for those who will learn after you. You can write everything in the comments – about an awesome video you found on YouTube, useful article, learned life-hack for preparation. You will help others and improve your karma, increase the likelihood of passing the exam!
Get ready with the Knowledge Map!
Your PMP certificate is waiting for you! At the same time, new projects, higher wages, respect and success are waiting for you together with the certificate!